Travels, Swims, Harmony & Peace Runs
Born in New York, Adhiratha first went as a child to visit relatives in western Canada and later traveled as a merchant seaman on a ship around the world during his university days. His personal and professional interests continued this exposure to many cultures and countries.
From England to France
To honour the fortieth anniversary of the United Nations in 1985, Adhiratha (kevin) Keefe became the first staff member of the UN to swim across the English Channel (NY times) between Great Britan and France (French call it  "La Manche", the "sleeve".)
---
1986 - International Year of Peace
The following year to draw attention to the UN's  International Year of Peace,
he swam with 2 other UN Staff in 30 locations around the world. They began on January 1st at the Miyajima Shrine near Hiroshima (news clips and photos)  which is a UNESCO World Heritage Site.
---
A member of the international civil service for over three decades, Adhiratha has worked for the United Nations Secretariat, the United Nations Children's Fund (UNICEF) and the UN Population Fund (UNFPA).
Adhiratha has been particularly moved by those he has met participating in the Oneness-Home  World Harmony and Peace Run events.
Here is U tube video from Africa in 2010:
Welcome to "Adventure into Zambia" - where students invoke President Obama and UN Secretary General.
The United Nations and the UN Educational Scientific and Cultural Organization (UNESCO) are supporting the International Year of Youth and its theme of dialogue and mutual understanding, being celebrated through August of 2011.The slogan is "Our Year" "Our Voice". In these clips you hear the voice of Africa, of Zambia, of Youth.

Youth seen holding the torch say they are NOT looking to countries' presidents, United Nations Secretary-General or other leaders to change the world. Their "hour has come" and they voice where peace begins.

The World Harmony Run is a global torch relay, founded by Sri Chinmoy in 1987. It seeks to strengthen international friendship and understanding. As a symbol of harmony, runners carry a flaming torch, passing it from hand to hand traveling through over 100 nations around the globe.

This video includes a short introduction from Davidson Hepburn, the President of the General Conference of UNESCO, followed by four schools visited in Zambia late last year
Dr. Hepburn, recently commented on the Run's support for their Year of Youth. "By encouraging young people to express their aspirations for harmony today, the World Harmony Run is surely building the foundation for a culture of peace tomorrow."
Sri Chinmoy (1931-2007), Founder of the Harmony Run composed the theme song which ends "We are the Oneness and Fullness of Tomorrow's Sun". With powerful expression these youth made that promise of harmony, peace and oneness their own.
With gratitude to four featured Schools: Lotus Basic, Nkhwazi Primary, Jacaranda Basic, New Northmead Basic and special thanks to Lusaka friends and supporters of Zambian World Harmony Run Team.
See also:
-Full Zambia text report and photos at: http://www.worldharmonyrun.org/zambia/news/2010/1101/
-Dr.Hepburn of UNESCO video extract and full text message at: http://www.worldharmonyrun.org/beyond2011/
World Harmony Run supports the International Year of Youth and the International Year of Forests proclaimed by the United Nations General Assembly.
Enjoy "Adventure into Zambia."
In 2008 he participated in Western Canada (from Alberta - where his mother was born - to the west coast)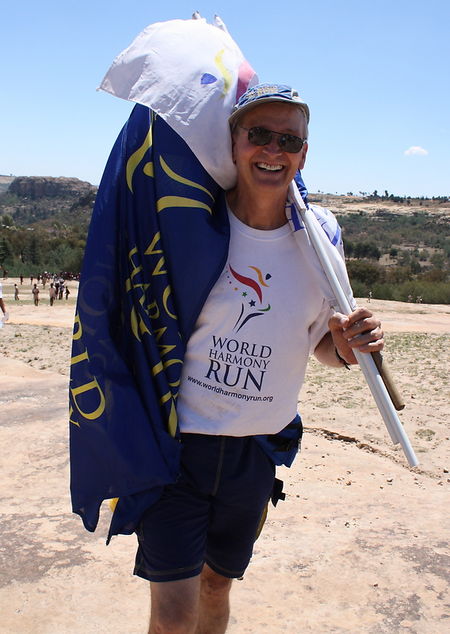 and the 5 country runs in southern Africa. In 2009 he participated in Malaysia, Bangladesh, Indonesia and also in USA for a stint up the California Coast.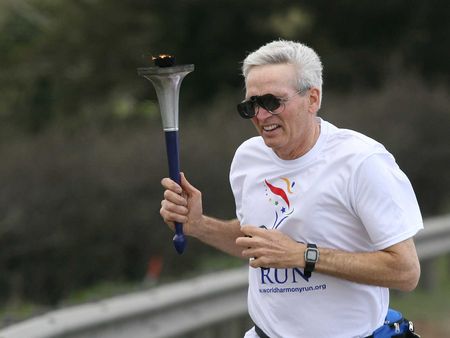 That year was also his first visit to Ireland from which some of his ancestors left for North America years ago.
From his childhood he heard many Irish stories, jokes, ballads and songs and greatly enjoyed (hearing and) seeing first hand this magical land as part of the WHR international 2009 team.
In early 2010 he was also in Guatemala, Columbia, Puerto Rico, The Bahamas (see a sweet video here - with some of Adhiratha comment on events)
as well as USA in New York for international Launch across from the UN,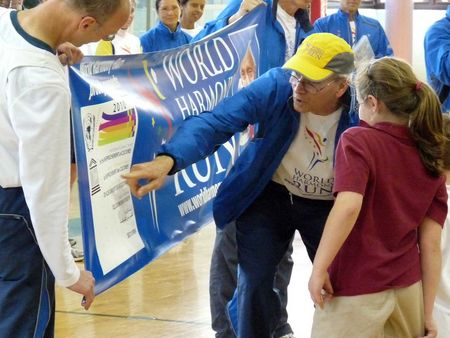 Philadelphia where a number of children in one school joined in reading out
part of the UN and UNESCO logo for year 2010 in different languages.
(For local press coverage of the event, go to the Main line Media News web site - video, pictures -  Google news also picked up the item) 
Across from Philadelphia City Hall it was also mentioned during a media event that as the founder of the World Harmony and Peace Run, had noted on a previous occasion the spirit that gave birth to the USA in Philadelphia had inspired the world. The League of Nations and then the United Nations were built on a continuation of those initial courageous actions in Philadelphia.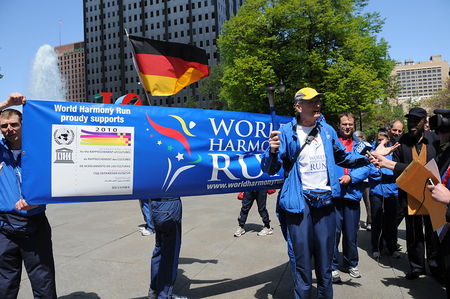 So it was very fitting to have banner in support of the "International Year for the Rapprochement of Cultures" highlighted today with the World Harmony Runners and special guests in front of the famous "LOVE" emblem across from City Hall.
and Washington DC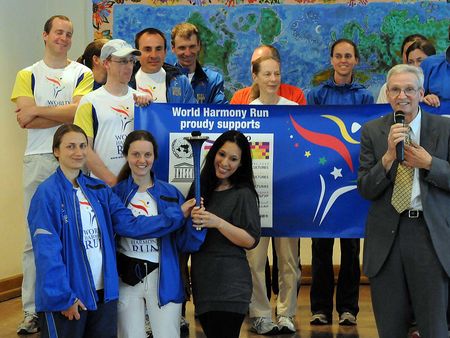 where with the assistance of Students and Tachers of the Oneness-Family School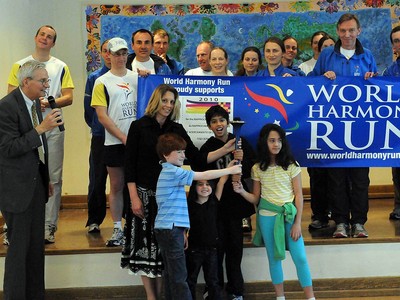 all the 6 UN Languages used on Logo for the IYRC  were read out.
---

The World Harmony Run proudly supports the International Year of Youth (IYY) and the International Year of Forests (IYF) proclaimed by the United Nations General Assembly.
See the recent Youtube video on African experience which illustrates IYY slogan "Our Year Our Voice"  International Year of Youth - Zambia World Harmony. They surprisingly mention Presidents and UN Secretary-General in a unique way! 
See also the UNESCO World Heritage (WH) Centre support for IY of Forests.  ... Convention for conservation of forest biodiversity. (more)
For 2010 trip to Russia see: http://adhiratha.srichinmoycentre.org/russia